This enforced holiday (due to being sick) has meant I have a bit more time to tidy up my cyber life, including this blog and my Etsy shop.
I have new products to photograph and post online but as the weather is so grey neither the light inside or out is conducive to good photos. So I decided to look at making an Etsy Treasury. A treasury is a curated list of items that you like and put together, more gallery than scrapebook. The treasury should have a theme that links each item.
I remember the first time I got a message to say one of my items had been included in a treasury, I was so excited about it...that someone liked it enough to include it.
This jumper has been popular and included in a few treasuries including this one created by Puffin Patchwork
Warm and Cosy for Autumn
. The treasury has some wonderful crafts and I am honoured to be included in it. See Puffins own work here in her Etsy Shop
Puffin Patchwork
Purls (
Etsy shop Purls Of Colour
) made a lovely treasury
Once In A Blue Moon
which included my
Night Owl
wreath. Its led to a sale, not of the wreath but of some of the items on the wreath, an owl, a star and a moon.
So I tried to make a treasury of my own. During the summer I made this one
Summer Yearnings
featuring some amazing work that made me think of long hot summer days. It included this watercolour by Helen Dardik of
Orange Studio
, an amazing illustrator (HINT: If you need to buy me a present any of her work will do).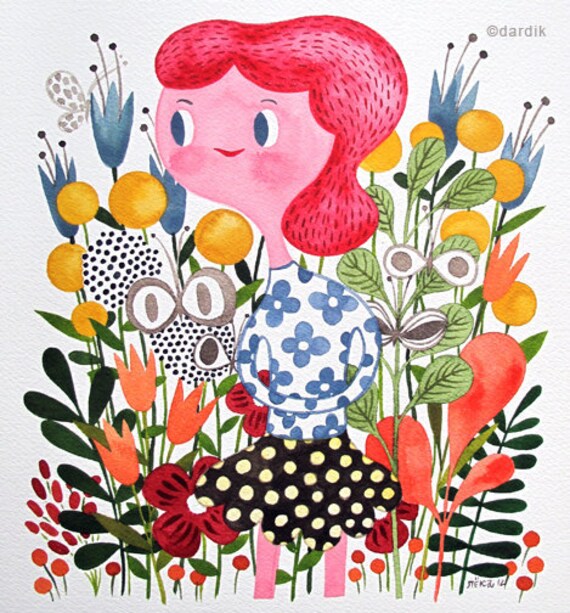 Then today I gave another one a go. I was looking through the
Crafty Ireland Team
wonderful crafts and noticed that many people have made wonderful craft animals...and so I made a treasury featuring this called
Irish Animal Magic
. Among the magical animals is a fox kit from
An Snag Breac,
I think it is so cute but not sure if I would be able to make it.
As a craftworker it gives me a great boost to see my work included in a treasury, particulary one curated by another craftworker as they know and understand the time and work involved in handmade goods and have used some of this valuable time to admire the work of another.
Lastly, BIG PLUG. This christmas think of buying Irish and handmade. From me at Etsy shop
Quirky Apple
or Facebook
Quirky Apple
or
Crafty Ireland Team
on Etsy which right now has 9, 799 items listed.